Million Hearts is on a mission to help kids defeat a terrible disease. Through visual storytelling, we are able to draw public attention to the issue of pediatric oncology.
According to health statistics and data sources over 200 000 children get diagnosed with cancer each year. The key to successful treatment is early detection and therapy.
In Russia, only 70% of diagnosed children get better, while many succumb to the disease largely due to shortage of funds.
Million Hearts is our mutual project with the Charity Fund "Nastenka".
We created it to give an effort and chance of survival for kids, who dream, hope, and look forward to the future. Together we can help them defeat this terrible disease.
Awards & Recognition
AWWWARDS
Honorable mention
CSS Design Awards
Special Kudos
CSS Design Awards
Best Innovation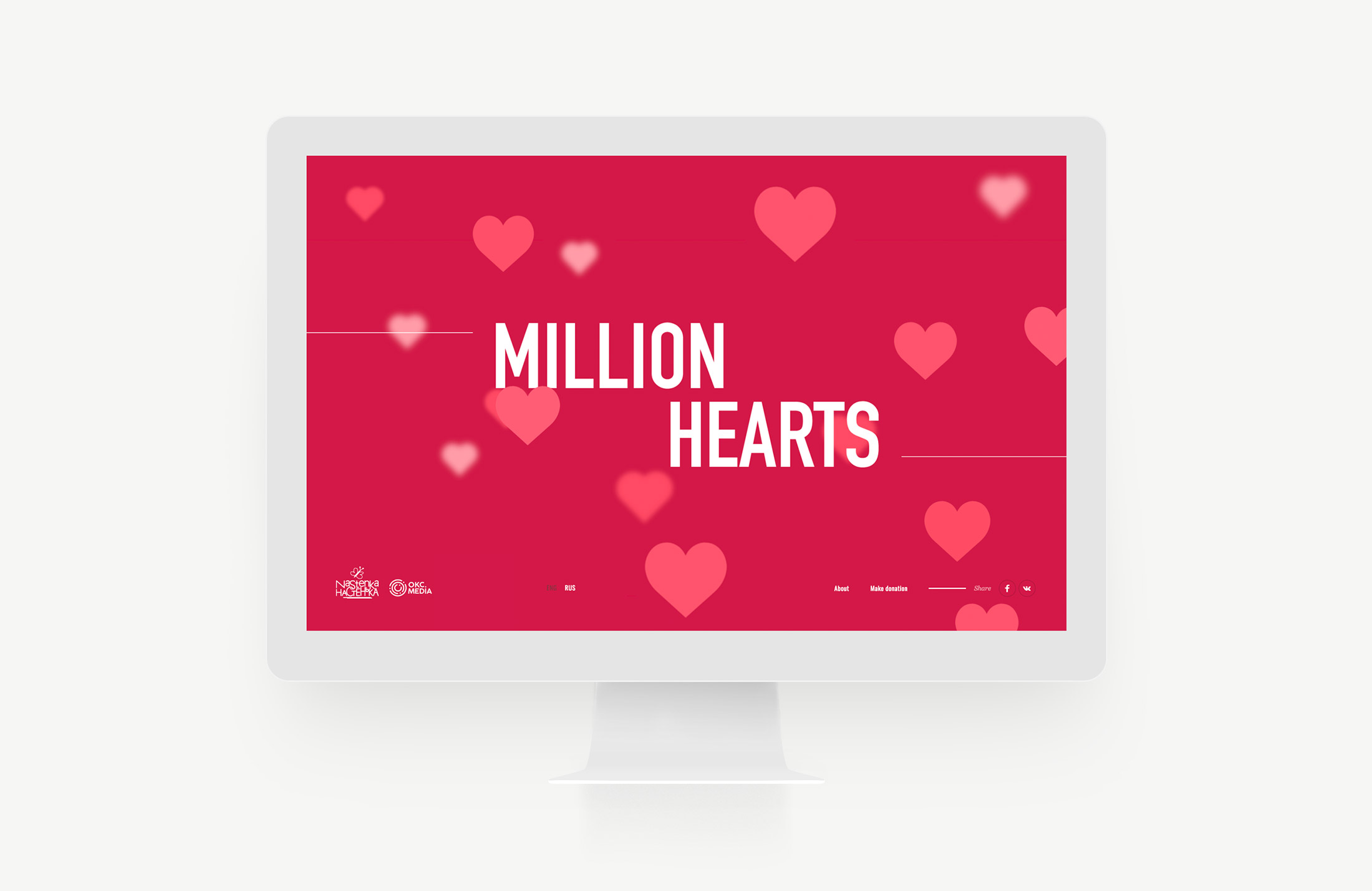 The basic concept of the website is an infinite flow of hearts. Every heart is a dream of a kid's future.
For seven years of cooperation with Charity Fund, we have been seeing countless stories about children fighting for life. That's why the basic concept of the website is an infinite flow of hearts. Every heart is a dream of a kid's future. Unfortunately, the amount of such hearts is huge, and this flow never stops. In order to help them reach closer to their dreams, they need your support.
Each child's story has a video message from a professional whose profession the child wants to do when they grow up. There are a lot of different specialists: firefighters, teachers, cosmonauts, artists, doctors.
They sent their videos right from their workplaces: a cabin of an aircraft, a studio, or an underground train. And we published their videos as is, to keep their messages really live and sincere. They are all talking about the profession and wish children to become healthy soon.
It's possible to donate to every child online, by any online payment method and any amount. Any donation matters and is used to cover the cost of the surgeries, to provide the necessary medicine, and to equip the hospitals to meet the medical standards of care.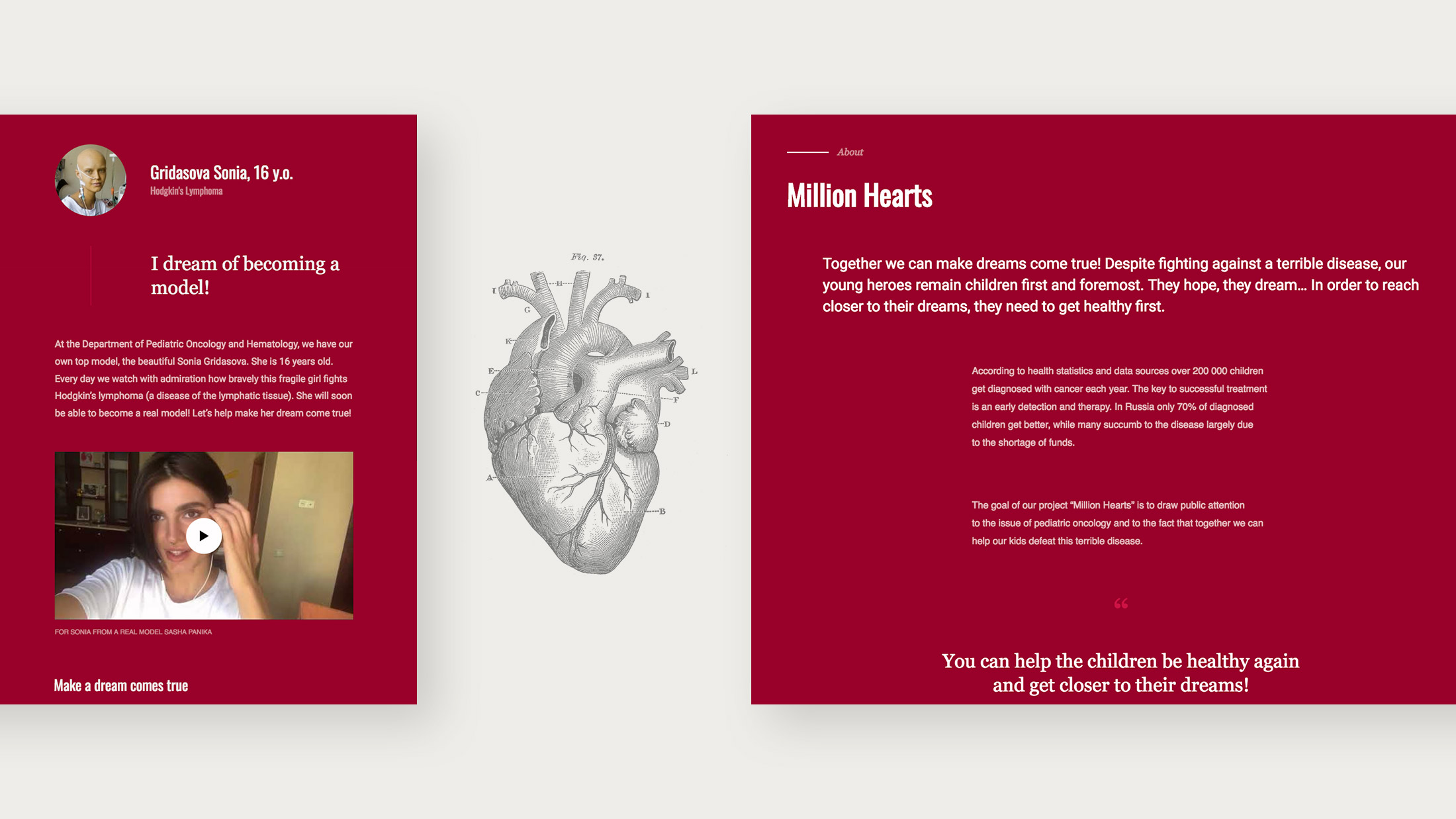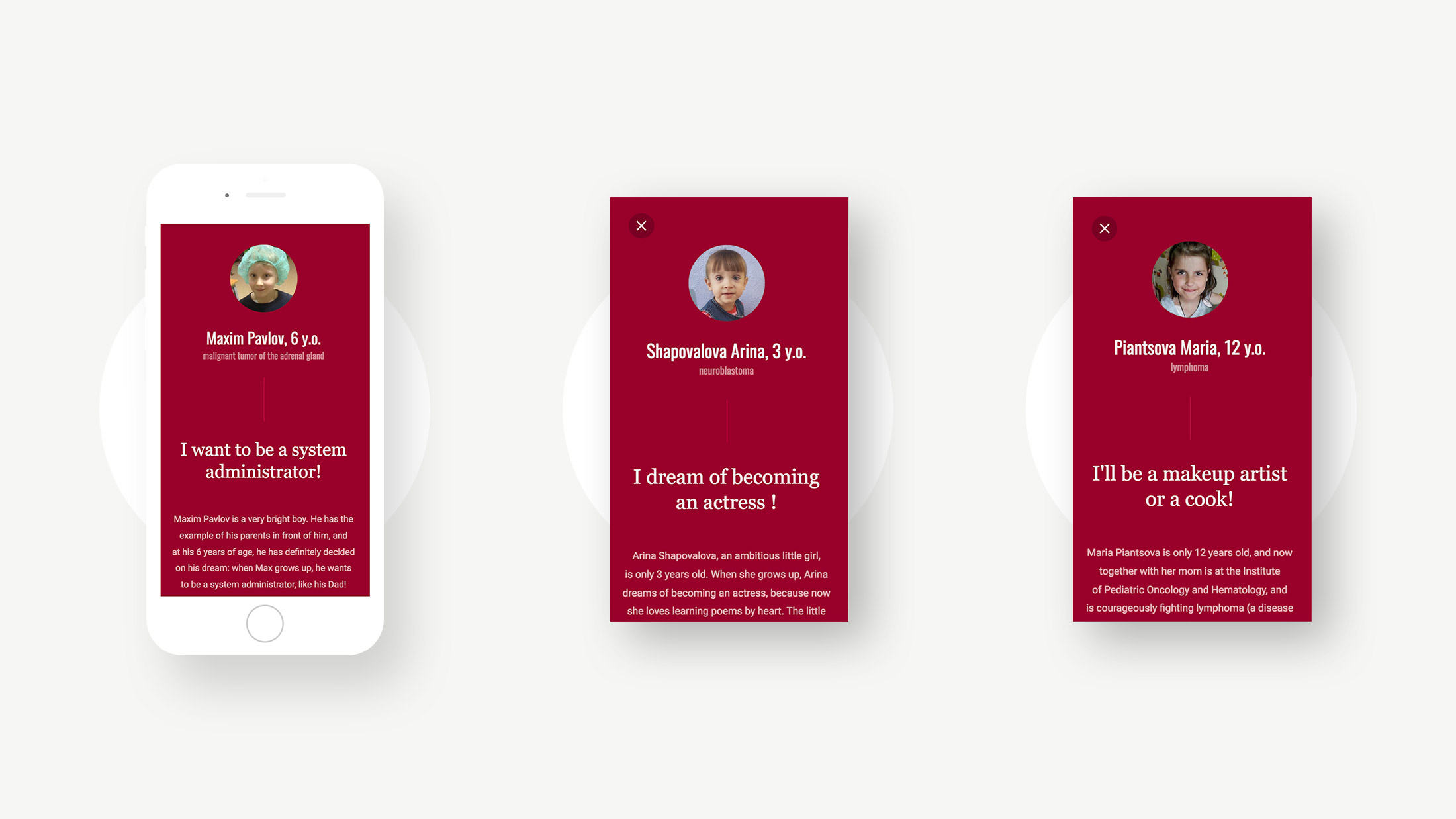 "I'd like to thank all the team, the people who make this idea live: Alexey Klopkov, Slava Kardantsev, Ekaterina Zhdanova, Sasha Rayan, Anton Lyaskovsky, Yura Galperin, and especially all the people who take action in Million Hearts."
Vadim Smirnov — Creative director