How to make money on cryptocurrencies and shares? The new CFD Global website is created for people who want to earn a profit from major companies they use every day.
Background
CFD Global offers an investment solution for both professional traders and newcomers.
Our goal was to create a visual language for the leading company in a highly competitive environment, emphasizing their expertise and client-centric approach.
Usually, in the design of money-related services, there are two extremes — either you fall into the Bloomberg experience black hole, or you have endless real-time rates and charts that look like computer games.
Insight
Our big idea was that CFD Global is a personal brand, suitable for every investor, regardless of their amount of investment or level of experience.
For newcomers, we suggest a simple quiz to determine their investment experience level and offer them the most suitable strategy.
For professionals we get straight to the point and let them discover current events on the market, reviews, show them indices in live mode, and the specific advantages of trading with CFD Global.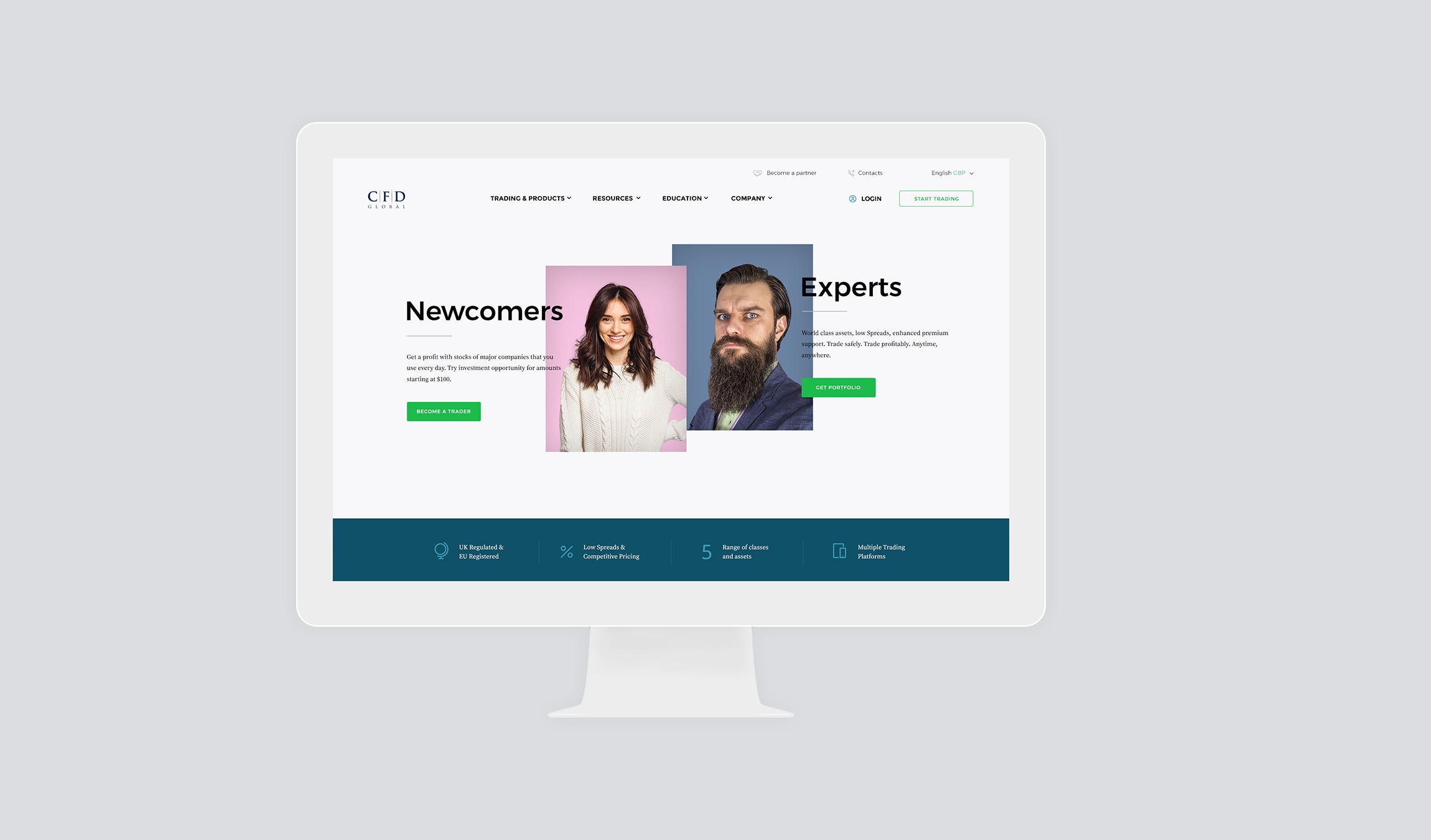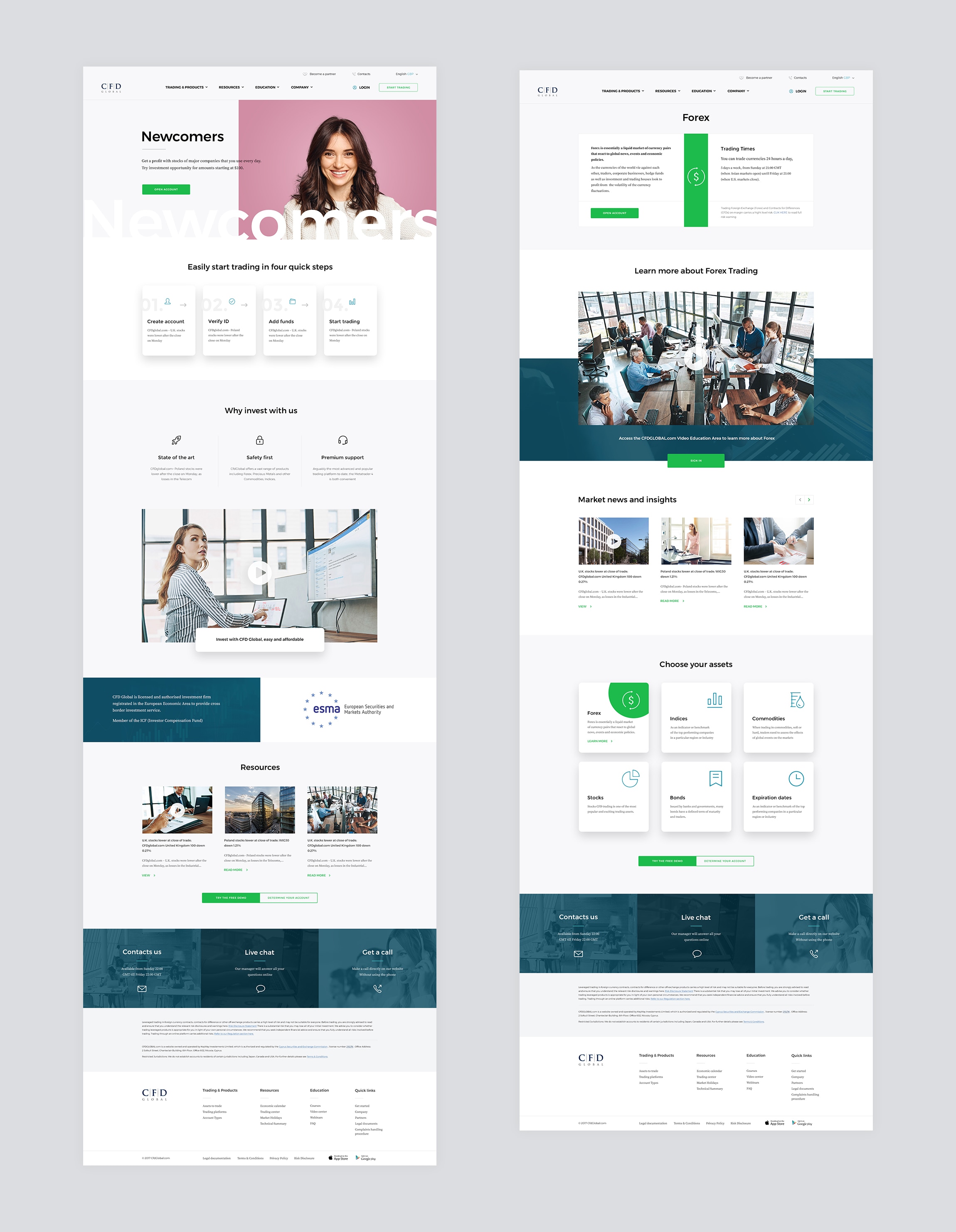 We were looking for an image that would make people remember the company at first sight.
To do this, we conceptualized the right above the fold content, which shows that every newcomer can become an expert, and every expert was once a beginner.
From the first screen, we offer the user two journeys: the journey of a professional trader and journey of a newcomer.
We used an interactive tilt-effect with mouse movements (or accelerometer sensor for mobile devices) to engage users to interact with the message.
CFD Global works worldwide with the people of various professions — that's why we offered local images for Europe, South America, and Asia: the main CFD markets.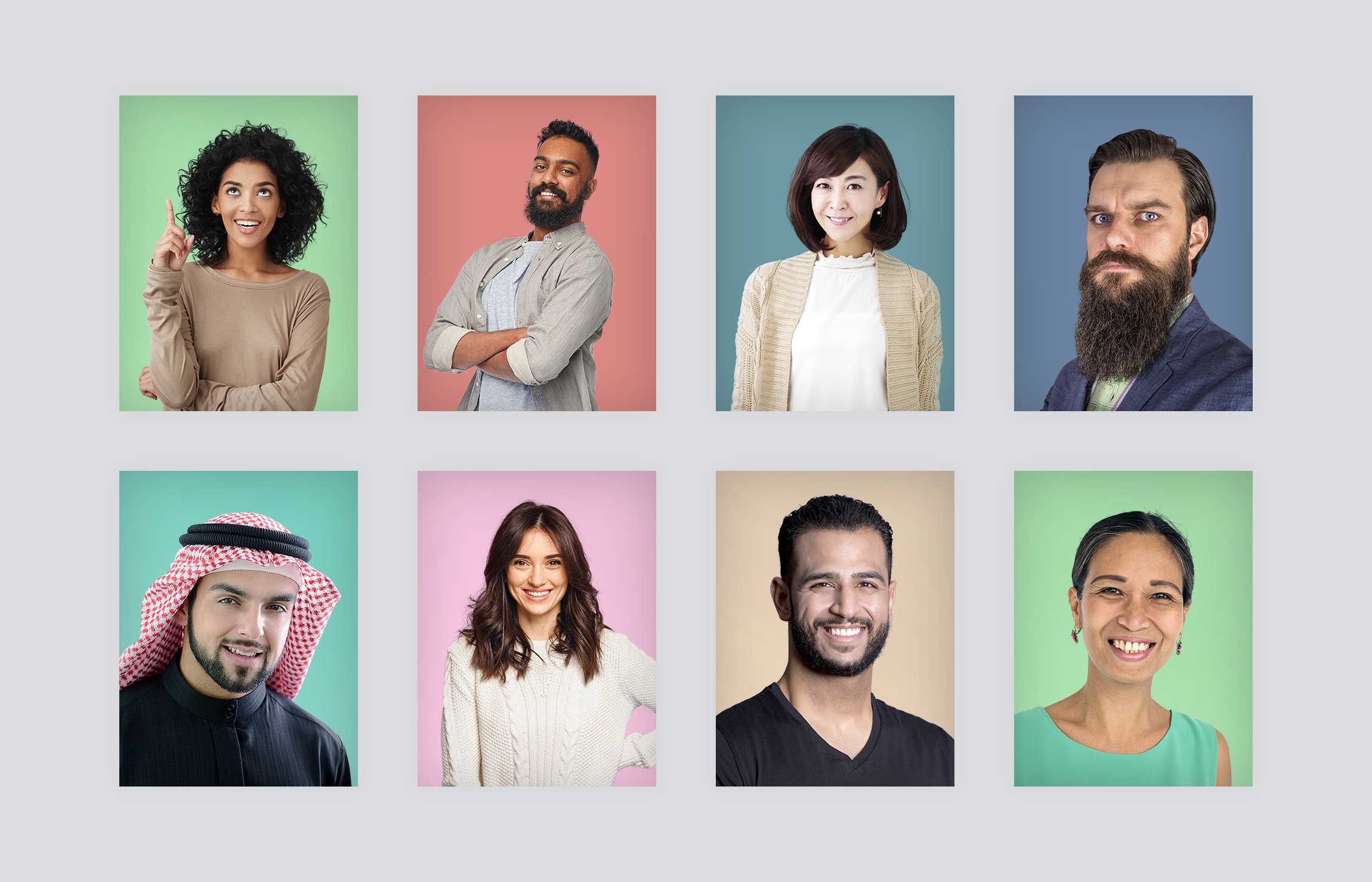 "Users expect the mobile experience to be as good as desktop, without any compromise. "
Alexey Klopkov — Art director
Mobile experience strategy
Our goal was to provide the absolute experience regardless of user's browsing device. Users expect the mobile experience to be as good as desktop, without any compromise. Our mobile design is created uniquely, with a deliberate focus on every responsive element.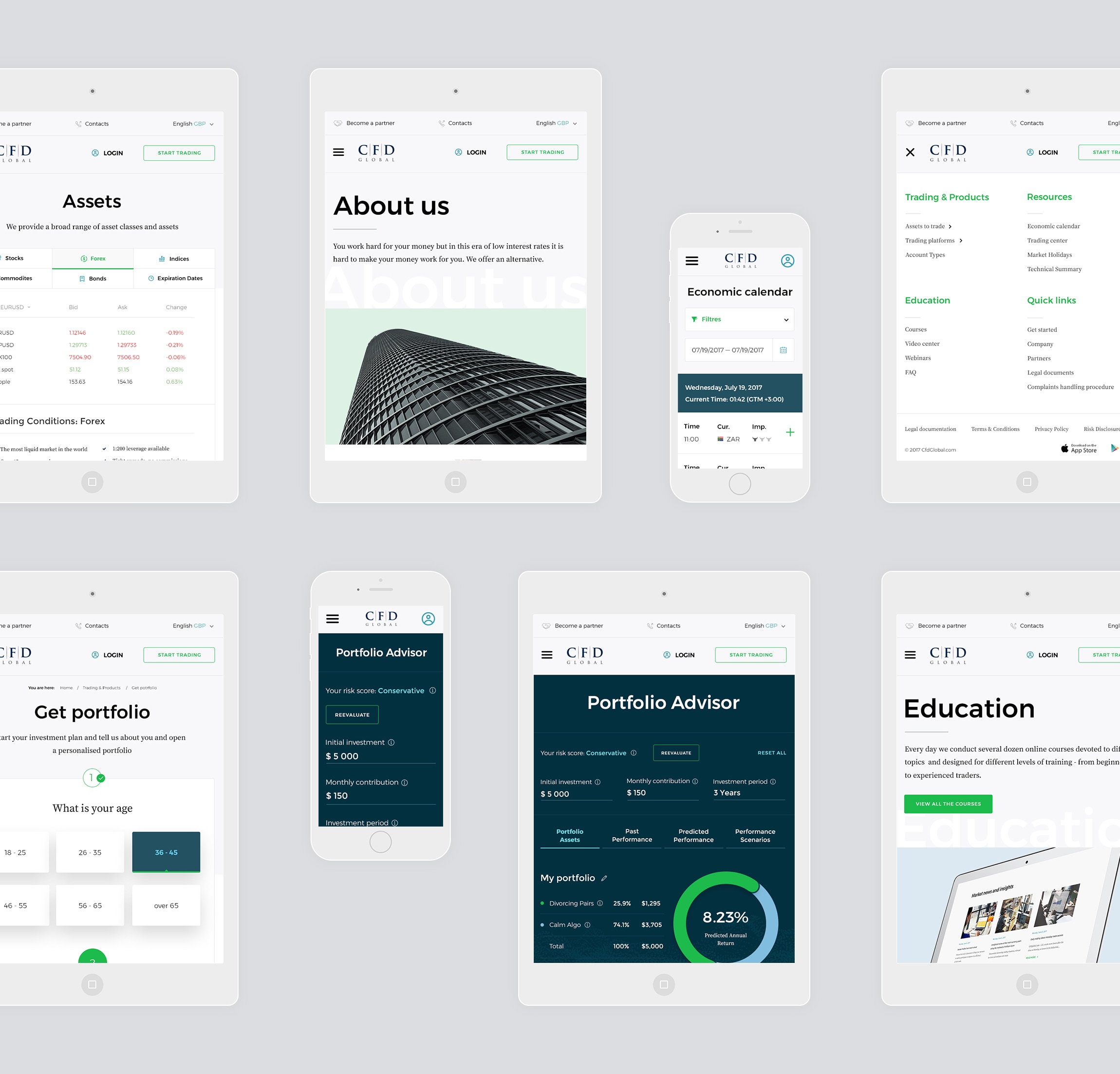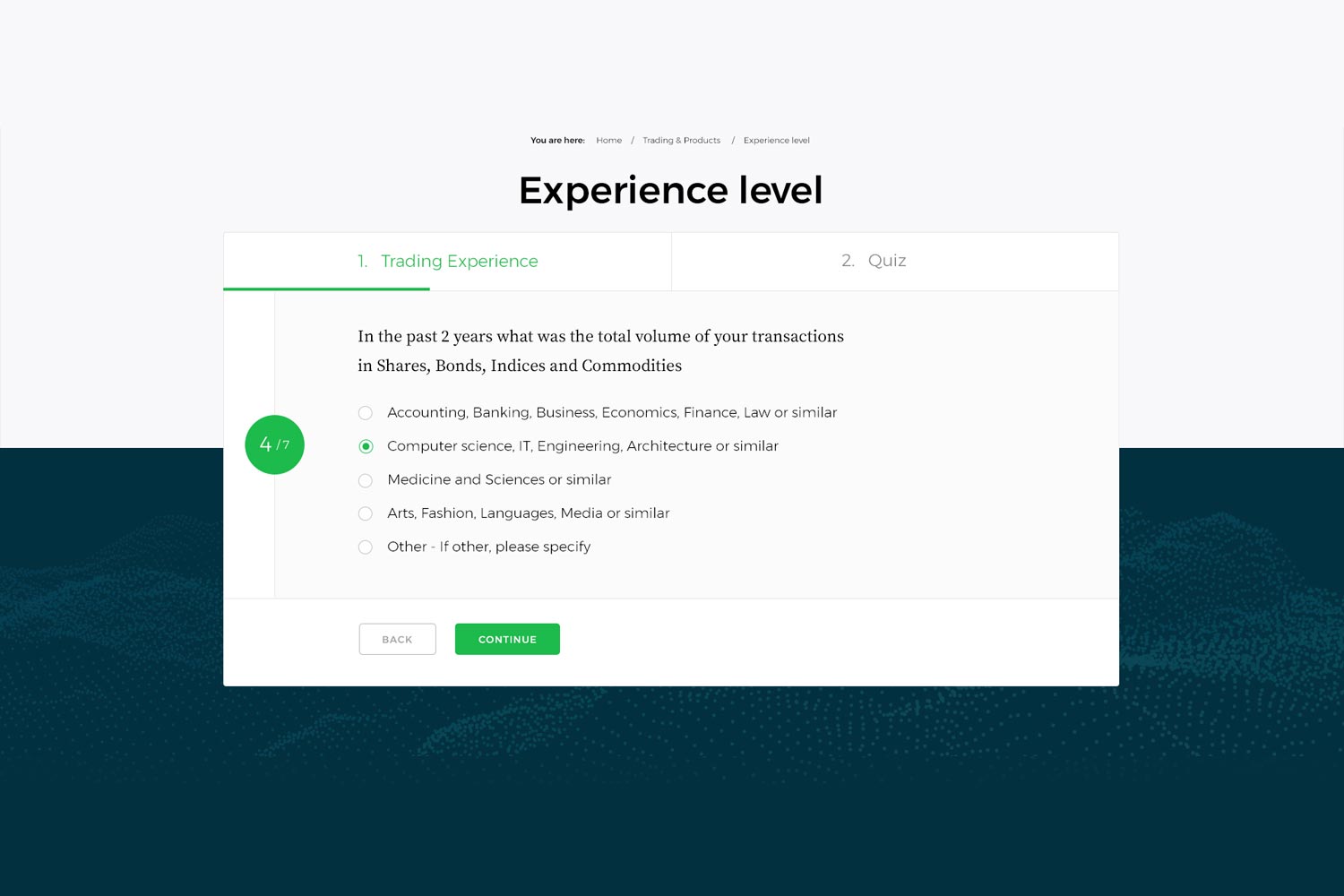 Experience level
A short quiz for newcomers helps to determine their trading experience level and allow them to find the most suitable investing strategy.
We care about simplicity when showing their profit opportunities and risks.
"Once Bruce Lee said that the successful warrior is the average man, with laser-like focus. When designing user experience we think first about the focus of final users. And good design helps to handle loads of information and data to make the right choice at the right time."
Alexis Amet — UX designer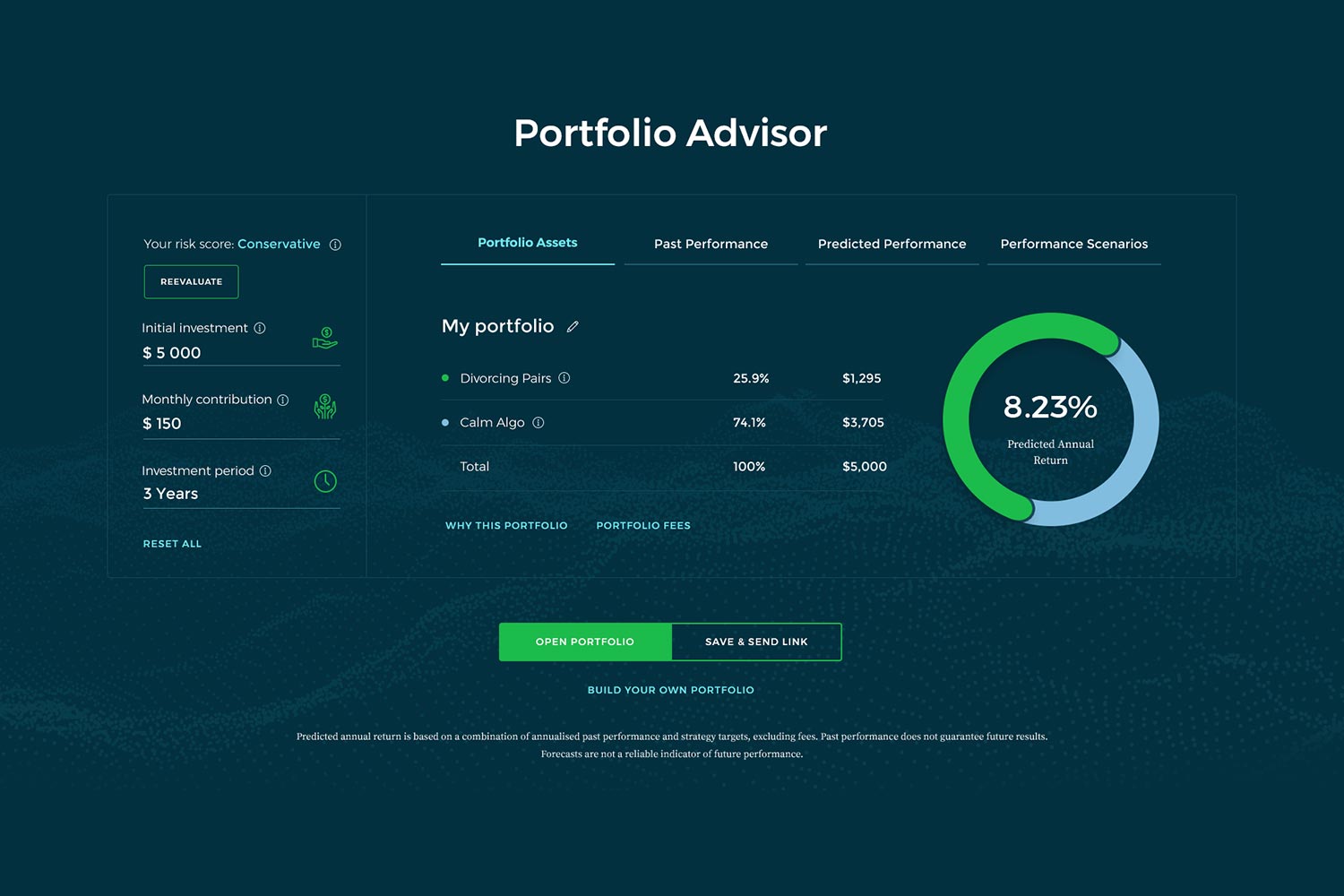 Portfolio advisor
Based on the user's preferences on liquid asset value, investing period and acceptable risks, the advisor presents the most suitable portfolio. It allows the user to see the past and predicted performance, to customize the set of shares or currency pairs, and to find the best investment strategy.